There are approximately 500 million native Spanish speakers in the world and in the US alone, 13% of the total population speak Spanish as their mother tongue. This makes it a very powerful language in terms of business worldwide. Whether you are interested in working within the US with a Spanish-speaking company or you're looking to go abroad for work, knowing how to write a Spanish resume will be vitally important.
Depending on where you would like to look for work you will need to adapt your Spanish resume, or as it is more commonly known in Europe, your Spanish CV, to the specific regulations of that country. If you are searching for a job in a Latin American country, you should research the recruitment processes and etiquette for resume writing in that specific country before sending your application to ensure you don't leave anything out that could be crucial for your candidacy.
Other names used to describe the Spanish resume include 'curriculum' – more popular in Spain – and 'hoja de vida' – used in some Latin American countries.
This guide to Spanish resume writing will give you a better idea of how to tackle this challenge as well as a few expert pointers to consider to create an outstanding Spanish resume for your job application.
Writing a Resume in Spanish
If you need to write a resume in Spanish for a job application, it is advisable to go beyond simply translating the information and instead, you should try to write the Spanish CV from scratch taking into consideration the differences in layout and relevant details.
The principal elements that need to be taken into account are:
Formatting
Information to include
Order and importance of sections
Cultural terms
Equivalents for grades, courses, etc.
Below you will find more information on these factors to help you structure and complete your resume in Spanish. Firstly, however, are a few general tips regarding creating a resume in Spanish:
Sometimes, in resumes for the US or other countries, it is common practice to develop work experience descriptions or other sections in paragraph format. In a Spanish curriculum this is not the case and in any areas where you include more information than just basic details of dates and names, you should aim to use bullet points to list the corresponding description.
Throughout a Spanish resume, candidates should make their achievements and key skills clear by using different action verbs. Examples of good Spanish resume vocabulary to use include: prepare – preparar, achieve – lograr, obtain – conseguir, promote – fomentar, etc. Take a look at Spanish resume examples for more ideas.
The use of the Spanish equivalent of the first person singular 'I' – 'Yo' should be limited. Instead use simply the past or infinitive form of the verb to explain accomplishments or responsibilities from previous experiences.
Once you've finished your Spanish resume and you've included all the relevant information without overloading it, it is highly recommended that you should ask a native speaker to proofread the finished product because it may be a foreign language to you but the hiring manager will spot mistakes in an instant and any spelling or grammar mistakes could potentially ruin your chances of making it to the interview stage.
A resume in Spanish example will help candidates understand what is important to include and what is not for their job application in Spain or to another Spanish-speaking country.
Spanish Resume: Layout and Sections
When it comes down to structuring a Spanish resume, it is essential for applicants to take a look at the Spanish resume format to understand how a resume in Spanish should be laid out, what information should be included and what should be excluded. One way to do this is to employ Spanish resume templates that are pre-structured in a format that Spanish-speaking recruiters know well, in order to offer them the information in an easily recognizable order.
The general rule for the length of a Spanish resume is to maintain all the information within 2x A4 size pages maximum. This is already more than necessary because recruiters do not have much time to spend reviewing the many resumes they receive which means it is essentially better to aim for just one page, however, 2 pages are acceptable for candidates with a long, relevant work history.
The margins and white space on a Spanish curriculum should also be considered because the technical resume formatting for different language resumes can vary. In standard Spanish CVs, margins should measure 3 cm (just over 1 inch) from the top of the page and 2.5cm (1 inch) from each side.
Another rule to take into account to create a correct Spanish resume format is the heading or title you put at the beginning of the page. It is important that this area is not given the title 'Spanish resume' or simply 'Resume', 'CV' or 'Curriculum'. The header should include the applicant's full name and the relevant personal details.
Once you understand the format that is necessary for a Spanish resume to fit the criteria of Spanish employers, you can use a resume in Spanish example to see how you can adapt your resume to their requirements.
What to include in a Spanish resume?
Other than the language, there are additional factors that must be considered when writing a resume in Spanish. These elements encompass what sections should appear on a Spanish CV in order to catch the hiring manager's attention.
If the curriculum is not well-formatted and laid out in the corresponding order, you could easily find your Spanish resume being rejected from the very beginning. To ensure this doesn't happen, follow these guidelines of what to write in your resume in Spanish:
Photo
As is often the case with foreign job applications, the Spanish curriculum generally includes a photo. This photo is not like that of an actor's resume, instead it is a passport-sized photo included on the front page of the resume. The photo should show only the head and shoulders and should not be taken from another photo but be professionally shot for this purpose.
If you are uncomfortable including a photo on your Spanish resume, it is not compulsory and the 'anonymous CV' is becoming more and more accepted in Spanish companies so it should not cause a problem. However, candidates should be aware that traditionally Spanish-speaking recruiters are accustomed to seeing this photo as part of the professional profile of an applicant.
Personal Information
Datos personales
Either with the photo or in a header for your resume, you should include a section dedicated to contact and personal information for the hiring manager to be able to identify you and have your contact details to hand if they are interested in discussing further your application.
This area should include the candidate's details as follows:
Full name – Nombre completo (First and Last name = Nombre and Apellido)
Age or date of birth – Edad or fecha de nacimiento
Full address or alternatively a general location such as the region or city where you're
looking to work – Dirección or Ubicación (Estado, Zona, Región, Ciudad)
Email address – Correo electrónico
Phone number – Número de teléfono
Nationality – Nacionalidad
Also, if applicable the candidate's ID number that proves their right to work in the country to which they're applying. In Spain this is called a NIE – numero de identidad extranjero – giving the bearer permission to be contracted and pay into the tax and social security system. Check the name and nature of this document if you're applying to work in a different Spanish-speaking country.
Additionally here you can add information regarding your availability of timetable and your driving licence type or other major certificates you may hold that could be beneficial to your job application.
Education/Training
Formación Académica
Often found in second place on a Spanish resume, especially for entry-level or student resume candidates, is the education or training section, dedicated to demonstrating the candidate's qualifications and certificates.
The information that should be included in this section includes the following:
Name and type of qualification (where possible offer the Spanish equivalent)
Corresponding start and finish dates (If the course is still undergoing, use the term 'en curso' to explain that the certificate has not yet been awarded.)
Location and/or academy name
Grade – if relevant (It is not necessary to include your GPA but if you wish to add a grade to demonstrate high academic achievement, work out the equivalent for the country you're applying to so the hiring manager has a frame of reference to better understand the accomplishment.)
If you have various diplomas, it is only necessary to include the most relevant and recent certifications to demonstrate to the prospective employer your training in the specific area you want to work in.
In a Spanish CV, if you have undertaken professional courses or training programs, these will usually be included in this section. It does not only refer to academic degrees. If, like many jobseekers these days, you have both professional and academic certificates, combine the most pertinent information regarding the different courses in this same section to provide a well-rounded image of your professional expertise to the hiring manager.
Professional Experience
Experiencia profesional
Usually in third position on a Spanish resume, the work experience section should give a list of the most recent and important positions you have held. In order to structure the job history section correctly, you can see how Spanish resume examples demonstrate the previous posts in reverse chronological order and every candidate should do the same so that potential employers get a good idea of the career progression.
Each entry in the work experience section should follow the same format:
Name of position/Job title
Company name or sector (If the company is unlikely to be known or understood, explain briefly the industry it is dedicated to.)
Location
Dates of employment
Description of tasks and responsibilities
In addition to all paid professional experience, candidates should include internships and significant volunteer experience in this category because in a Spanish resume, it is common practice to combine these various experiences as opposed to separate them into different areas.
Bear in mind that if you use the full date in your Spanish resume at any point and are applying for work with a European company, you should adjust the date to the DD/MM/YYYY format.
Remember only to include the most relevant job history that relates directly to the company, industry or position you're applying to.
Skills
Competencias/Aptitudes
A section dedicated to hard and soft skills is not traditionally found on a Spanish resume, however, it is becoming increasingly common and it could give you the upper hand in the job application process if you directly demonstrate to the hiring manager that you possess certain abilities that other candidates do not claim to have.
The most essential skills that you should mention in this section are those that establish you as the ideal applicant for the position in question. The best way to know what these skills are is by researching well the vacancy on offer and using the job description as a guide to find the key skills required.
Some of the most crucial skills to highlight on a Spanish resume include linguistic abilities and IT skills. If you are particularly gifted in one of these two areas, you can create a separate section that deals with just these capabilities.
Languages
Idiomas
If you choose to add your linguistic abilities to a specially dedicated languages section or include them within your general skills section, you should remember to list not only the language you master but also the level to which you are able to use it in a professional capacity.
For a resume for Spain, candidates are recommended to list their linguistic abilities according to the Common European Framework of Reference (CEFR) for languages, which rates the level of fluency between a scale of A1 (most basic knowledge) to C2 (native fluency).
If you have completed any universally recognized exams, such as a DELE (Diploma de Español como Lengua Extranjera = Diploma of Spanish as a Foreign Language), these should be included in this section. This will allow the hiring manager to gain a better understanding of your level.
You can also use a more global scale if you are applying to work in a Spanish company in the US or elsewhere. The following are some general terms to describe linguistic abilities:
Beginner – Inicial/Principiante
Elementary – Básico
Intermediate – Intermedio
Advanced – Avanzado
Bilingual – Bilingüe
Mother tongue – Lengua materna
IT Skills
Competencias de informática
Candidates should determine the types of IT programs or languages they can use to demonstrate to the hiring manager their capabilities in this area.
For example, it is more common to see Microsoft Office included in Spanish resumes than American ones; it is referred to as Ofimática. For other programs, it is important for candidates to use the technical names and if necessary add an explanation as to the main function so the hiring manager can understand the suitability of this skill as part of the job application.
If it is not relevant to the position you are applying for, it is not necessary to include a section dedicated to your IT skills unless it offers something to your application that competing candidates might not have which could be useful to the vacancy or company.
Hobbies
Aficiones
Less commonly found on professional resumes in Spanish, but still sometimes included, is a section dedicated to the candidate's hobbies or personal interests. This part can give a potential employer a better, more well-rounded idea of the character of the applicant. Sometimes, it can even be the turning point, if the candidate adapts their resume well to the vacancy or specific company culture, encompassing shared values into the free-time activities mentioned here.
Do not add this section if you feel it does not fit well with the type of position you are seeking or the specific business you're applying to. The idea is not to waste a hiring manager's time but to engage them with relevant information by supplying a well-structured and informative Spanish resume.
Using a Spanish resume builder will give you the best Spanish CV templates with professional examples to understand how to optimize your job application in Spanish.
ResumeCoach gives jobseekers the ability to make their resume in various languages through the multi-lingual online resume builder application so you can get a jumpstart on your Spanish resume with expert tips.
Spanish Resume Example
One guaranteed method to create a Spanish resume that will catch the eye of the hiring manager is to employ a Spanish resume example to guide you with tips and sample texts to use in the various sections.
An example of a resume in Spanish can help candidates choose what sections will be useful for their customized job application and show them how to format a resume that will stand out from the competition. Example Spanish curriculums will be complete with typical Spanish resume terms and phrases that are common to Spanish speaking recruiters.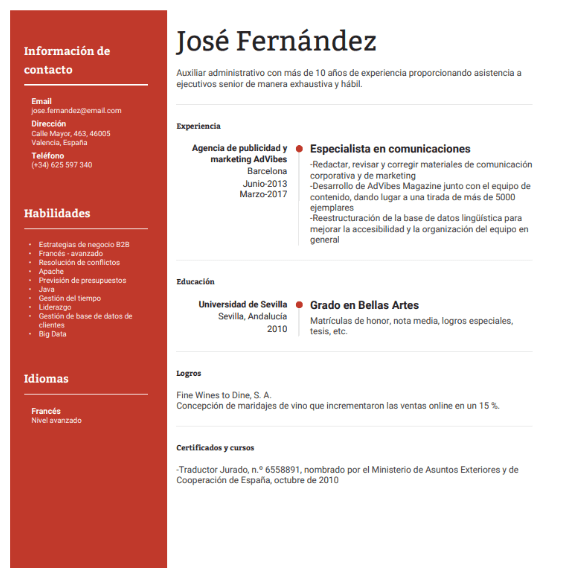 In addition to resume examples in Spanish and using a Spanish resume template, candidates are also advised to review cover letters in Spanish which are better known as cartas de presentación. To complete a job application for a vacancy in Spain, Mexico or another Spanish speaking nation or company, it will be necessary to present both the Spanish curriculum and the cover letter.
Difference between American and Spanish Resumes
There are always similarities and differences to be considered when you need to create a resume to apply for a job in a different country or simply using a different language. Moving from one language to another implies much more than simple translation of words, and applicants should take care to respect cultural differences that may apply when job searching in different countries.
Although both the Spanish and American resumes are generally short and do not exceed 2 A4 pages as a standard rule, it could be construed that the Spanish resume has overall less detail. This is because it is only now becoming more common to include a list of the achievements or responsibilities held in previous positions. Therefore many older Spanish-speaking jobseekers will not complete their professional experience section to such a degree as the current generation.
Additionally, it is also only recently becoming more popular to include a skills section which displays the different hard and soft abilities of the applicant. Thus, frequently Spanish resumes will be seen with much less detail than American resumes.
Resume in Spanish for Mexico
To write a resume in Spanish for a job application in Mexico, there are several aspects that candidates should consider before handing over a traditional Spanish resume.
Firstly, again a resume in Spanish cannot simply be a translated version of your normal resume because it may not tick the boxes of what is required by a Mexican employer.
Generally in Mexico, the resume is also known as a CV or currículum, and does not differ majorly from the resume for Spain or hoja de vida that we have described previously.
In Mexico, education is one of the most valued sections and should be included with more detail than the typical American resume, listing college activities, honors and awards, etc.
In addition to the aforementioned sections, the Mexican resume includes a part that is dedicated to updates – Actualizaciones. This means instead of adding new courses, professional training sessions or diplomas to the education section, any of these that have given you new expertise would be listed here under this heading.
If you're applying for a job in Mexico or another Spanish-speaking country, you can use an online resume builder to create your resume in Spanish in no time with no fuss.
Last modified on July 6th, 2020