Is a cover letter necessary?
Is it valuable to your  job application?
If you have a resume, why do you need a cover letter?

Any of these sound familiar? The simple answer is yes, having an effective cover letter is completely necessary and highly recommended and we'll tell you why you need a cover letter as well as a resume!

When you're applying for a job, whether it be for an entry-level position after graduating or for a high-level executive vacancy with a professional resume, a cover letter is essential to make your application stand out. Without this extra introductory letter, a resume alone can easily be discarded by a hiring manager who feels they do not have the time to wade through the information.

Writing a good cover letter is a skill that not many people master very easily but that doesn't mean it's an impossible feat!

With our complete cover letter guide, you'll learn how to write a cover letter that will attract the hiring manager and convince them to read your winning resume.
What is a cover letter?
A cover letter is an extension to your job application, it is not obligatory but including a well-written cover letter is strongly advised by all human resource experts. By definition, a cover letter is an accompanying, explanatory letter.
All jobseekers need a sales pitch of sorts, they need to hook the reader and demonstrate to the hiring manager why they are the right person for the vacancy on offer. This style of self marketing for a job application must come in the form of a winning resume and cover letter combination that complement one another.
A simple cover letter is an introduction to the candidate behind the qualifications and experience. The aim is to show a prospective employer how you can take on the role and what you can offer the company in question.
Cover letters generally follow a basic structure and can be in either hard or digital format, that is to say, either printed and sent via regular mail or as a document scanned and attached to send digitally, or written directly in an email cover letter.
Why include a cover letter on a job application?
If you want to stand any chance at all of catching the eye of a potential employer, it is imperative to include a cover letter with your job application.
But why?
Simple – even if you create an effective, outstanding resume, using all the right keywords and qualifications etc. it's possible there are candidates more qualified than you or with more experience so it's necessary to add a cover letter to back up your resume and allow the hiring manager to see more of your personal side that is relevant to the vacancy.
A cover letter is the added value that you need in a job application to ensure the call-back you've been waiting for.
To create a unique, tailor-made job application, each candidate should use a cover letter to highlight their strengths and elaborate on relevant achievements that demonstrate their ability to take on the new responsibilities.
Is it practically always sensible and appropriate to write a cover letter to accompany a resume for a job application that should be customized for the role you're applying to including any explanations of information that might be missing from the resume, such as employment gaps, traveling, periods of study etc.
The only time it is acceptable to not include a cover letter in your job application is if the job listing specifically requests that you do not.
How to write a cover letter
A cover letter, although short in length generally, can take time to elaborate as it is important to get it right. Sometimes, due to the scarce space for writing, candidates find it difficult to know what to include in a cover letter and what to leave out.

However, knowing how to do a cover letter can make all the difference to your job application and be the just the thing to capture the attention of a hiring manager.
A professional cover letter should be well-formatted, following a structure with a header, an opening paragraph, a second main paragraph, a final closing paragraph and a closing with signature/electronic signature.
To begin writing a cover letter for a job application, candidates should analyze their skills, qualifications, accomplishments and experience to decide which are the most fundamental aspects to include in their personalized cover letter.
Next, each jobseeker will have to select the most job-relevant of these elements to include by comparing them with the required or desired qualifications and experience in the job description.
Finally, the applicant should choose some memorable examples which demonstrate evidence of each element included in their cover letter, aiming to tell a story which shows their aptitude concerning each skill or qualification.
Jobseekers should also ensure to explore how to make a cover letter for their specific role or industry because, similarly to resumes, each cover letter should be tailored for the vacancy and company to which it will be sent.
It is vital for candidates to consider several factors when it comes to writing their professional cover letter. A jobseeker must review their resume work history section as well as any skills and honors included to find the most pertinent experiences that can be explored further. Detailing examples of when a candidate demonstrated certain abilities or expertise is how a candidate can convince a hiring.
One way to create a winning cover letter is to use an online cover letter creator or take advantage of cover letter templates as a stepping stone as well as checking out cover letter examples that can serve as a great source of inspiration for you to make your own unique cover letter.
Our cover letter builder forms part of our resume builder and allows jobseekers to create a more complete job application. Users can write their cover letter with pro tips and design help thanks to our pre-designed templates. Read our cover letter writing guide to get to grips with cover letter writing techniques and tips before using our online cover letter builder!
How to Structure a Cover Letter
The structure and layout of a cover letter is essential to make sure the letter displays each point that you wish to get across clearly and concisely. This means it's necessary, in general, to follow a commonly-accepted format for an effective cover letter.
Similarly to a resume format, designing and writing a cover letter has certain rules which should be adhered to in order to convey the necessary information in a brief and to the point introductory letter.
Check out some of the cover letter best practices as advised by human resources experts below:
It's imperative to begin a cover letter with a header, including the candidate's name and contact information as well as the date. This primary cover letter section can also include the job title, website and other relevant personal information.
Following this, the letter should include the details of the company and person to whom you are writing, with the full name, job title or team, company name and address.
The main body of a cover letter should be divided into 3 paragraphs which take the form of an introduction, principal themes and a closing paragraph to invite the hiring manager to contact you.
Finally, the letter should be electronically or physically signed with your full name in a formal manner.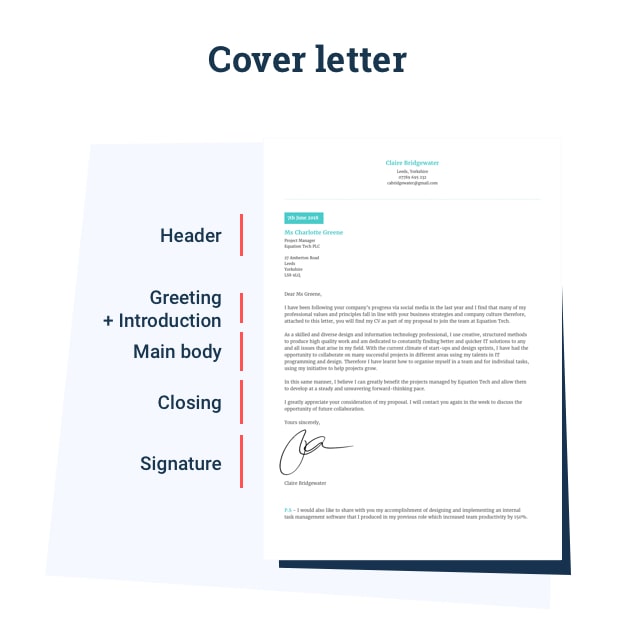 The universally-accepted cover letter length is no longer than one letter page, which in total has about 250-300 words for the main body of text. It is strongly recommended not to repeat information or be too detailed because hiring managers simply do not have the time to read it all and will simply skip to the next one.
TOP TIP: Keep your cover letter short and sweet and to the point!
Get more cover letter formatting advice in our guide on how to format a cover letter with tips and information about all aspects of a good cover letter structure.
Cover letter advice
The importance of including a cover letter with your job application is often overlooked by jobseekers of all categories, however this can seriously reduce your possibilities of getting an interview with a prospective employer.
Therefore you need not ask yourself when to write a cover letter because the answer is just that simple – it is always appropriate to include a cover letter in your job application, unless the listing explicitly requests that you do not.
Check out the following expert cover letter tips to create a winning cover letter that will convince the hiring manager to give you a call:
We may be quite repetitive with this one but the sheer quantity of resumes and cover letters that are disregarded simply for forgetting this vital and basic rule is incredible: USE A PROFESSIONAL EMAIL ADDRESS for your contact details and that does not include your current work email but a personal, suitable email address.
It is essential to remember to maintain your focus on the needs of the company you're applying to and the requirements and desired abilities of the ideal candidate for the role. Do not focus on how you can benefit by becoming a member of their team, but on how the team can make the most of your experience and knowledge.
Remember to highlight your transferable skills, especially in cases where you may not meet all the required qualities in the job description such as in student resumes and cover letters.
Each cover letter for a job application, cover letters for internships, for further study or even volunteer experience should be tailored to their specific organization and position with the pertinent keywords.
Use specific examples to demonstrate the candidate's individual capacity to take on the role and tell a story with your cover letter to convey more of your personality and passion towards the sector or profession.
Towards the end of a cover letter, each candidate should write a convincing finish to entice the hiring manager and in sales terminology "seal the deal".
TOP TIP: Something many jobseekers do not think to use is a simple P.S. at the end of a cover letter to add a piece of information that sticks out and calls attention to a specific achievement or accomplishment that would be of interest to the prospective employer.
Finally when you have completed your polished cover letter, potentially one of the most important steps in the process is to PROOFREAD. Candidates should request that a friend, mentor, teacher or peer takes a look at their cover letter for not only grammatical and spelling errors but also any unwanted repetition or unrelated information.
Some jobseekers doubt whether a cover letter is necessary or not, but as most human resource professionals agree without a well-written cover letter, candidates lose the possibility to demonstrate different aspects of their profile from those included in their resumes which could easily be the deciding factor in your application!
An easy and fast way to write an effective cover letter for a job application is to employ an online cover letter creator that will offer advice on how to complete a cover letter with examples and HR-approved templates.
Last modified on October 26th, 2020