Writing an Italian resume is quite a different experience to writing one for an American job search. When targeting a position with an Italian company in Italy, its critical that you optimize your resume professionally to adhere to the expected best practice in the country.
Firstly, don't call it a resume. Italians will more often talk about their Curriculum Vitae, or CV when applying for a job in the country. Aside from a different name for the document, you will have to be aware of a few formatting issues, and naturally, communicating your language skills in the Italian language and helping explain your overseas qualifications.
Remember that your resume is in many ways the first impression you will have with an Italian recruiter, so you should seek to make it a positive first encounter. In the following guide, you'll learn the best ways to tailor your resume for the Italian job market and where to take extra care when negotiating the cultural differences.
Writing a Resume in Italian
Knowing how to write an Italian resume will give you a very strong advantage over other foreign applicants applying for jobs in the country's job market. However, one thing to bear in mind, first of all, is the written language of your CV. If you're able to speak Italian fluently or with a very high level of skill, then you may feel confident enough to write the resume in Italian yourself. However, if you are more uncertain of your ability to use the language professionally, another approach could be necessary.
Try to avoid the temptation to copy and paste your resume text through Google translate. This is more likely to create mistakes and mistranslations that could be the downfall of your application. After all, like with any job search, your spelling and grammar need to be immaculate.
Before you really get started, however, be sure to follow these important tips as you write your perfected Italian CV:
Start the resume with your name as the title header. Don't simply title it with Curriculum Vitae
Creative resumes and specially designed resumes may look amazing, however, most hiring managers in Italy prefer a standard chronological resume
Do your research before you apply for a job (even in the US). Try and glean what the culture, values and working processes of the organization are before you start. This can offer clues for how to structure your resume and what information you should include
Keep your resume to the point. Cut out any extraneous information that doesn't apply to the role you're targetting
As mentioned previously, avoid spelling and grammar errors at all costs.
Use the formal third person "lei" form of "you" rather than the informal "tu" when you address the recruiter directly
In the case of writing an Italian resume document, it might be a good idea to entrust the written language of your text to a professional translator, or an Italian speaking friend or colleague. Whilst the results are usually better, this can sometimes be a costly option. Another option, however, is to use an online resume builder with an Italian language template. This will make the job of creating the correct section headings and formatting your resume for an Italian company much simpler.
Italian Resume: Layout and Sections
Writing your resume is only half the battle. Formatting it correctly so that it displays the information Italian recruiters will want to see is also crucial. If in doubt, using a pre-made Italian curriculum vitae template can help you organize all the right components of a resume into an effective professional design.
Top tips for formatting an Italian resume:
The length of the CV should be no more than 2 letter pages
Keep the text at a consistent size throughout the document
Mark each section clearly out with larger size headers and subheaders
Contact Information
This is perhaps the most critical part of any resume, as without it you will never get called in for an interview. In the case of an Italian resume, you will still need the details you'd expect on a US resume, such as your phone number, email address — and of course, your name. However, whilst it might not be common in the states, recruiters in Italy will want to see a date of birth.
Photo
Recruiters in Italy, like in many other countries in Europe such as Germany, Spain or France will normally expect a photo on your resume. This should be a passport-sized (2" x 2") headshot of you, ideally with a neutral background. The photo you choose should look professional, therefore avoid any pictures taken at parties or at social events whenever possible.
However, it is not an essential obligation to include a photo. It may still be expected as a matter of course in Italy, however, it is becoming ever more common to apply for jobs with "anonymous CVs".
Work Experience
Your work experience section is what will really sell you as a candidate in almost all cases. In this part of the resume, you should present all the previous jobs you've held in reverse chronological order, working back from your most recent job to your earliest relevant position.
You don't need to include every single job you've ever had. As a rule, don't refer to jobs you held more than 10 years ago. Additionally, if you have a lot of experience, only detail the positions and tasks you've experienced that are relevant to the job you're aiming for.
When you present your previous employers on the page lay out each entry in the following format:
The name of the company and the dates of employment
Your job title in the organization
The key duties that you undertook in your role at the company
Skills
Including your hard and soft skills is very much an expectation on an American resume. However, in Italy, these are often presented in the cover letter. Work experience is the most important element to communicate on your Italian resume. However, it's becoming more common (thanks to services like LinkedIn) to mark a few key skills on the page, so this is an optional but not totally essential step.
Education
In order to communicate your training properly, you'll need to make sure that your qualifications are expressed in a way the hiring manager will be able to easily understand. That means you'll need to detail clearly what titles you've achieved, indicating where possible what this is equivalent to in the Italian system. As seen below:
| | |
| --- | --- |
| Italian Qualification | US Qualification |
| Diploma di istruzione secondaria superiore | High School Diploma |
| Laurea triennale | Bachelors Degree |
| Laurea magistrale | Masters Degree |
| Dottorato di ricerca | Doctorate |
Additionally, if you are listing degree achievements or High School Diplomas it can be a good idea to indicate the exact grade or level that you achieved. This is common practice in Italy and it's often assumed that candidates not stating their exact grade didn't achieve highly. In the case of translating a US qualification for this, it's best to indicate your numerical Grade Point Average (GPA).
Languages
Naturally, writing a resume for a job in a foreign country where a foreign tongue is spoken will require some information about the languages you can speak. Naturally, if you can speak English and Spanish to a good level, these will be useful for your application. English is especially important, due to its position as a major international business language, and will be an attractive skill for a recruiter to see on your CV.
However, perhaps the most important information to include in this section is your knowledge of Italian. Depending on the job you're targetting this could be crucial. You should indicate clearly what your level of Italian is on the resume. This is normally indicated with the following adjectives:
| | |
| --- | --- |
| Fluida | Fluent |
| Buona | Good |
| Discreta | Moderate |
However, the language needed on the resume will ultimately depend on the language required by the job itself. If you're aiming for a role where English is spoken throughout the company then your spoken Italian won't play such a big role.
Hobbies and Interests
This is not as important in the case of an Italian resume. However, while the recruiter will be drawn to your personal traits such as your reliability or interpersonal skills, your hobbies and interests will not be as much practical use, nor will they be expected from an Italian hiring manager. Instead focus on your talents, personal goals and any additional details regarding your ability to relocate or travel for work.
Italian Resume Example
To get a good idea of how this will all look on paper, it's best to look over a specific example of an Italian curriculum vitae. By viewing how the completed resume will appear, you'll see that the overall process of creating an Italian resume isn't too tricky. This will help you tailor your document to exactly what recruiters will expect to receive from a professional candidate.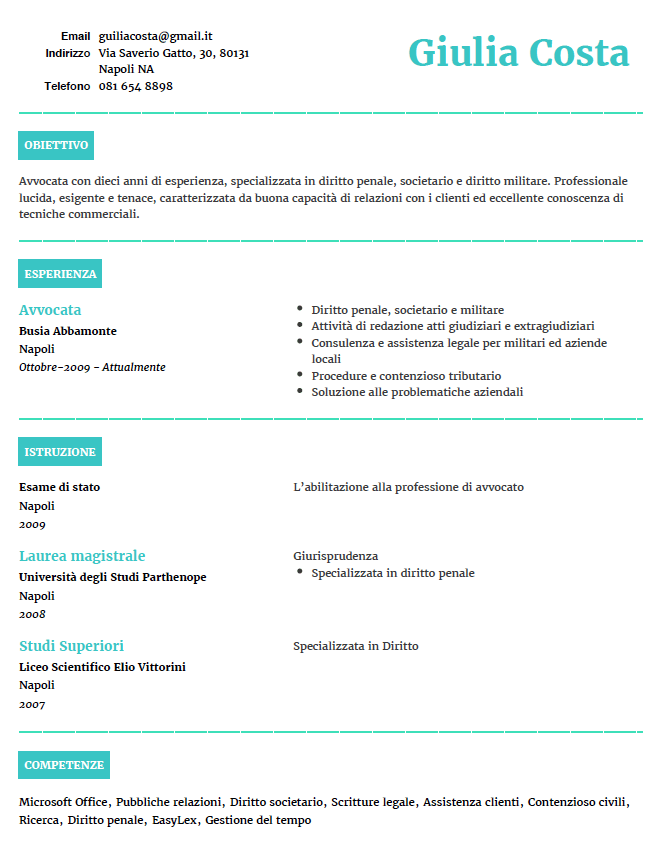 Resumecoach features resume templates in multiple different languages to make applying for a job anywhere that little bit simpler. Simply browse the options in our resume builder tool and create the perfect resume for wherever in the world you're applying.
Last modified on November 25th, 2020