First things first, writing a resume in France or for a French-speaking position is not the same as composing a standard American resume. Nor does the word resume even apply! Résumé in French means summary and when it comes to applying for a job in the French-speaking world, you will be required to apply with a CV: a Curriculum Vitae.
Other than the name itself, there are a few more rules that you should know to master the art of writing a resume, or CV, in French. As with customs around the world in diverse cultures, the traditional expectations of a job application can vary depending on the country and language. For a French-speaking company, whether it be located in French Canada, mainland France or another Francophone nation or simply uses French as an official business language, candidates who apply with a well-written French resume will often have the advantage.
Creating a resume in another language can prove to be quite a challenge which is why some candidates choose to use a French resume example to guide them when creating their own unique French CV.
The following guide will give you a few key pointers on how to write a French resume to ensure your French CV makes it to the top of the pile and help you to avoid making any 'faux-pas' when it comes to a French job application.
Writing a Resume in French
More than a simple translation, making a resume in French requires starting again from the beginning. The reason for this is that although much of the information that you will include in a French CV will be translated from your English resume, there are other factors to be considered.
These important elements include:
Culturally-specific terms
Grading systems for academic achievements
Formatting
Sections and order of information
In the following guide, we go into more detail regarding these factors but beforehand, a few tips on how to write a resume in French:
To create a French CV that can capture the attention of a French-speaking recruiter, it is crucial to be mindful of your writing. It's important to stand out but if you try to employ lots of creative language which you would not usually use in English, you may find that your resume no longer gives a professional impression.
Although design and creative resumes are becoming increasingly more popular, unless you are completely sure that the company culture and hiring manager will appreciate the artistic effort, for French-speaking companies, it is usually safer to provide a smart, executive-style resume.
Certain French language rules should also be considered when writing a resume for the French job market. These linguistic norms include avoiding the use of the first person singular term 'Je' – the equivalent of 'I' – to describe experiences and achievements, and instead, making phrases with only the verb and objects/compliments when describing tasks in previous positions.
Also, as many people nowadays have a first and last name that can be used as interchangeably, there is a little trick French people use to automatically know what the first name of a person is, even if they write their name in a different style. This trick is as simple as putting your last name in capital letters. Sometimes you will see they put their last name first, but as it is in capital letters, you know which is which! E.g. GERARD Anne-Claire; Michel ROBERT
If you need to make reference to any organizations, associations, company names, etc. with abbreviations or other culturally-specific information such as US state codes, it is best to spell out the words or give a brief explanation as to the meaning of the abbreviated name, just in case the person reading your French resume is not familiar with the term.
Finally, even the most fluent French speaker can make mistakes, therefore it is vitally important that you always try to get your French resume proofread by somebody native and preferably within your professional field.
French Resume: Layout and Sections
After coming to terms with the differences in language, there are certain formalities that need to be considered for a French Resume. These include both what should be included in a CV for a French job and the specific resume formatting rules.
To follow the typical French resume model, candidates should make their resume no longer than 2 standard A4 pages. This may seem long at first, compared to an American resume, but once you get going, you'll see how you can fill the space. That said, remember that if your French CV takes up just one page, that is perfectly acceptable and sometimes even preferred.
Candidates are advised to use a maximum of 2 different font styles throughout to maintain a professional French resume style.
Also, the same spacing should be maintained throughout the document so that the text remains clear and there is neither too much nor too little white space.
A sure-fire way to create a winning French CV that is well-structured and plays to the needs of French recruiters is by employing a French resume template that is ready-formatted with the right spacing, lines, and headings for the candidate to simply complete with their information.
What to include in a French resume
Knowing how to structure a French resume for a new job is vitally important but something that is of equal value is the content and what is included in a French CV. The different sections of a French resume encompass the relevant information pertaining to a candidate's professional profile.
The following are the principal sections that should be incorporated into a successful French resume:
Photo
This is something completely new and sometimes incomprehensible for an American but practically obligatory for a French resume to be taken seriously.
It is imperative that the photo you choose to include be a professional shot of the head and shoulders only. Do not crop yourself from photos with others or use selfies. A French resume photo needs to represent your professional candidacy, therefore make sure to take care of your appearance and clothing, by being simply, smartly dressed without going overboard on make-up, jewelry or other accessories.
Contact details/Personal information
Coordonnées/Situation personnelle et état civil
At the beginning of any resume, candidates should include their contact information by giving their full name, address or location, phone number, and email address as well as any online professional profiles such as LinkedIn or personal websites.
However, when it comes to writing a resume for a French job application, there are more details which should be added, some of which can seem very personal for an American audience. Despite this fact, it's important to comply with the basic requirements instead of leaving the recruiter needing to look for the information they expect to see.
This section should be comprised of:
Name and last name – Prénom et nom de famille
Address – Adresse
Date of Birth or age – Date de naissance/âge
Email address – Adresse email/courrier électronique
Phone number – Numéro de téléphone
Websites/Social media profiles/Portfolio – Site web/reseaux sociaux/Dossier professionnel
Nationality – Nationalité
Marital status – État civil
This last one is practically second-nature to older jobseekers in France and around the French-speaking world but it is becoming less and less common to include it and if you feel it could discriminate against you or simply you prefer not to mention it, do not feel obliged.
The usual responses are single = célibataire or married = marié(e), with the extra 'e' at the end for female candidates.
Title/Introduction
Titre/objetif/projet professionnel
Before entering into details on a French resume, candidates should summarise their profile in a few words in order to offer the reader a simple, clear idea of what type of application they are reviewing. These few words should then be presented in the form of a phrase of up to 3-4 words reflecting the job title.
Additionally, similarly to a resume objective or summary statement, French resumes include a brief introduction in the form of a sentence or two that encapsulate the candidate's profile in a convincing manner, to sell themselves to the hiring manager.
Education
Formation
On French resumes, the academic or professional training experience section is generally given priority even for those who have not recently graduated or are not currently in training. That is why it is imperative to always include your most prestigious and relevant certificates and diplomas at the beginning of your French resume.
Every country has a different system of education and grading so it is crucial for candidates to find out the correct equivalent of both their level of academic achievement and the corresponding grade in order to offer the information in a comprehensive manner to a French-speaking prospective employer.
In Canada or French-American companies, it is possible they will understand the US higher education system however it is always more beneficial to make it easier for a potential employer to grasp the level of academic accomplishment of each candidate by giving the French interpretations.
The following is a guide to what to list in the education section in a French resume:
High School Diploma = Baccalauréat (BAC)
Associate's Degree = DEUG – General or DUT, BTS – Technical (BAC + 2)
Bachelor's Degree (3 years) = License (BAC + 3)
Bachelor's Degree (4 years) = Maîtrise (BAC + 4)
Masters Degree or MBA = Masters or DEA, DESS (BAC + 5/6)
Doctorate PhD, LLD or JD = Doctorat (BAC + 8)
The French system simplifies this stage by referring directly to the level of higher education in years. The BAC + number indicates how many extra years of study have been undertaken post-high school.
Remember to investigate the company you are interested in applying to in order to get a better idea of which type of system they will understand to adapt your French resume and tailor it to each position every time you apply for a new role.
In this section, candidates should also mention all professional training programs or courses undertaken and, as with the formal education, list the dates, awarding body, program name and grades if applicable.
Work experience
Expérience professionnelle
For candidates who have a few years of professional experience or more, the main part of the French resume will be occupied by the job history section. For recent graduates, students or entry-level resumes, it is likely that they may have more of a balanced focus between experience and education.
A French resume work experience section should be written in reverse chronological order, the same as a US resume, starting with the most recent or current position and working backward.
The layout should follow this formula:
Job title
Company – If likely to be unknown to the employer, include sector.
Location – If you're applying outside of the US, write the state name instead of code.
Employment dates
Description
Remember, if at any time you refer to the full date, Europe and other parts of the world use a different format to write the date, putting the day first, then the month and finally the year: DD/MM/YYYY.
This section is the area where candidates should also look to include volunteering, military service or internships. Only include relevant experiences to the position you are applying to. This could be directly relevant as in the same industry or role, but also could be a different sector or post that offers pertinent skills or achievements to prove the candidate's suitability.
Skills
Connaissances/Compétences
Not always considered one of the most standard areas of a French resume, creating a skills section can be just what a candidate needs to stand out in the application process because it gives the hiring manager direct access to the applicant's abilities.
The most essential aspect of a French resume skills section is that the core capacities listed should reflect only the abilities that are relevant to the vacancy being offered.
Often, this section is split into separate skill areas, the most common of which being IT and Languages – Connaissances informatiques and Langues.
Within IT skills, applicants must list the programs and computer languages they are competent in. These must reflect the position in the job offer. It is not useful stating that you know JAVAscript if the position you are interested in uses completely different coding. Software programs are referred to as Logiciels.
For languages, candidates should list the different languages they can speak and refer to their level with a universally understood scale. For job applications for France or Switzerland, it is acceptable to use the Common European Framework of Reference (CEFR) relating each language to a level between A1 and C2, depending on your fluency.
For jobs in French Canada and other regions, it may be more advantageous and logical to use a standard Elementary to Fluent scale:
Elementary – Scolaire
Basic – Notions
Intermediate – Bonnes notions
Upper-intermediate – Moyens
Advanced – Courant
Bilingual – Bilingue
Mother tongue – Langue maternelle
For languages where the candidate possesses an official qualification, these details should be added here.
Hobbies
Centres d'intérêts
Although it is slowly gaining popularity again with the new generation of jobseekers and recruiters, hobbies are not usually seen on resumes in the US or even CVs in other countries. However, it is common practice to include a section for hobbies on a French resume which is strategically placed to help potential employers learn a little more about the candidate's character and abilities which might not be as obvious without this information.
The hobbies section of a resume is not a place to include random, unrelated details of activities you like to do in your time off of work but instead, a section to speak directly to the company you're applying to.
Indicating certain personal interests that benefit you both professionally as well as personally allows a hiring manager to see how you have grown, things you have learned and how certain skills you have could be applied to the company.
Using a French resume builder is the best way to ensure you get a fully-formatted French CV, with all the right sections available to be personalized according to your needs and allowing you to use French resume templates and expert recruiting tips that will help get your application through to the next round.
French Resume Example
A sure-fire method of creating a French CV that suits the requirements of the typical format and content is by using a French resume example that demonstrates what areas are most important to highlight and how to structure the document correctly so that a prospective employer can find the relevant information in a timely manner.
Good examples can help candidates find useful french resume phrases that can be worked into their own customized job application.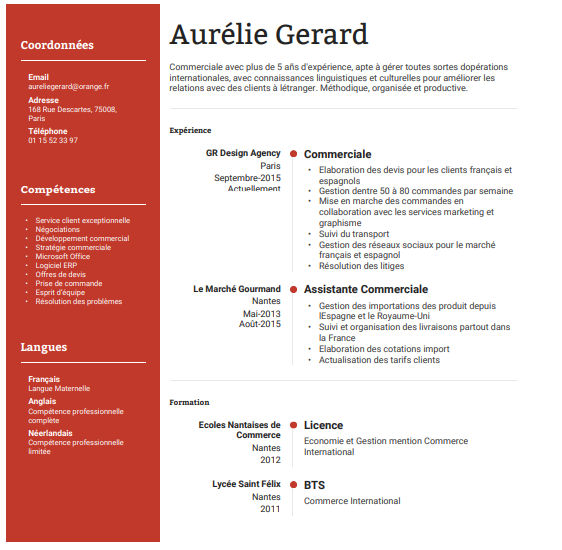 ResumeCoach has different language resume creators with professional templates, real-life examples, and expert tips in those target languages to help candidates produce winning resumes to find work in other countries.
In addition to helping to create an efficient french resume, cover letter examples can also be found online to aid candidates complete their french job application.
Difference between American and French Resumes
There are various aspects of American and French resumes which differ greatly. The first and most striking of which is probably the use of a photo and certain personal details in the first section of a French resume.
As is the case all over the world, recruiting strategies and factors that are considered important change with the diversity of cultures. Herein lies the main differences between American and French resumes because recruiters in French-speaking nations are often most accustomed to having certain information available from the beginning of the recruiting process whereas in other parts of the world, this information is regarded as unnecessary or can even be seen as generating bias.
Bearing in mind that certain information is necessary when applying for a job in a French-speaking country or company, if you are not comfortable including it on your resume, be prepared to possibly have to answer related questions in the interview stage.
Another of the main differences between French and American resumes is the focus of the application. Generally speaking, it depends on the type of candidate writing the resume and their experience, etc. however it is more common in French CVs to see an academic-based resume which gives more emphasis to the education and training section whereas US resumes tend to promote the work history section as the focal point if the candidate already has a certain amount of experience.
One way to ensure you complete a French resume that ticks all the boxes for a French-speaking recruiter is by applying with both a French and English-language resume, however this does double the work required. If you're having doubts about creating a winning French resume, another option is to try out a multi-lingual online resume builder that can guide you through each stage with examples and tips for each section.
Last modified on July 6th, 2020