The 6 Most Amazing Creative Resumes
Grabbing the attention of potential employers is a challenge. They sometimes receive hundreds of resumes for a single job application and only spend a few seconds looking at each one.
Most people's resumes look exactly the same, but not all of them. Some job seekers go way above expectations and spend time creating truly amazing resumes.
It's not easy to pull off, but now and again someone has an inspirational creative resume idea which gets them noticed. Their awesome resume can even end up in the newspapers or go viral across social media.
To reach the interview stage, there are plenty of professional-looking resume templates. However, if you're thinking about producing something unique, here are 6 of the most amazing resume examples to inspire you.
The video game resume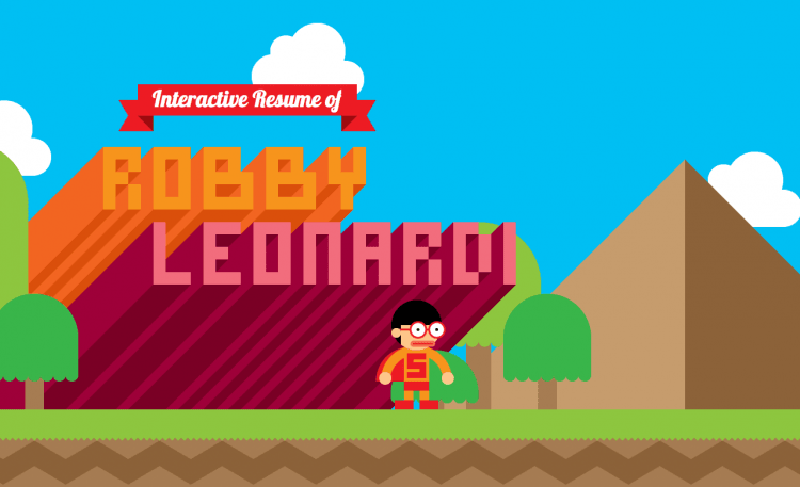 Reading through piles of resumes can be boring and tedious. You can just imagine how happy you'd be to receive Robby Leonardi's fully-playable video game resume. He built a platform game which was similar to Mario. Employers could complete the level to learn more about Robby's career and achievements.
In one section you caught a hot air balloon to see his awards and in another, you swam underwater to see his skills section. Incredible! Robby was a New York-based designer who specialized in graphic design, animation, and front-end development.
The movie poster resume
Joe Kelo found a fun way to beat his competition by created his own movie poster resume. He impressed employers so much that employers called him about jobs which didn't even match his profile! He produced the resume back in 2007 and it's an example of a creative resume which most people could produce by investing a little time.
There are various easy-to-use programs which allow you to experiment with fonts and colors to produce impressive results. Joe was a graphic designer but the resume concept can be easily adapted.
The Google Maps resume
When copywriter Ed Hamilton was out of work and had time on his hands, he produced an example of an outstanding creative resume. He used Google Maps to showcase his worldly range of experience by placing pins on his past places of work.
This created an engaging, interactive creative resume. Employers could click on each pin and a description of the job would pop up. This showed Ed's ability to think outside-of-the-box and demonstrated he could produce attractive content.
The iPad resume
Once employers had got over the initial disappointment of realizing the free iPad they'd received was made out of cardboard, they were highly impressed by Joshua Barnatt's resume. The LA-based photographer made a mock-up iPad which showed potential employers how his photos would look on screen.
The resume allowed them to envisage the contribution he could make to their business. This is another example of an impressive creative resume idea which can easily be adapted.
The Avatar resume
Pierre Rogers used his enthusiasm for video games to create this fun creative resume. His 'training' represents his qualifications, his 'completed missions' are his achievements, his 'special attributes' are his professional experience, and his weapons represent his skills.
The key lesson here is how creative resumes can demonstrate your passion to potential employers.
The billboard resume
Within 24-hours of putting up his billboard which read: "I spent my last £500 on this billboard. Please give me a job", there were over 10,000 tweets referencing the advert. Adam Pacitti went viral. The billboard included a link to his website where employers could find a detailed resume.
People who drove by simple couldn't ignore the 10-foot self-portrait. However, it was the social media frenzy which made the difference for Adam. If you want to impress an employer without investing time and money, using a resume builder is a time-effective way.