3 Quick Steps To The Perfect Resume
Creating a resume that looks good and reads even better can sometimes be a tricky balancing act. However, With our easy resume builder, you can whip up an amazing professional bio in almost no time at all. All you need to do is:
1) Select Your Template
Choose from over 20 professionally designed, ready-made resume builder templates to create a document that's ready to impress no matter your experience level and profession.
2) Enter Your Information
Once you've picked the design that's going to dazzle a hiring manager, simply fill in the blank sections with your personal career information. Don't worry, we'll give you help with the structure and layout along the way.
3) Download Your Upgraded Resume
After you've finished optimizing your new and shiny resume, all you need to do is download it. You can receive it either as a PDF (the best online optimized format for a resume) or as a text file. Then you're all set to get applying for the job of your dreams.
Why to Create Your Document With our Resume Maker App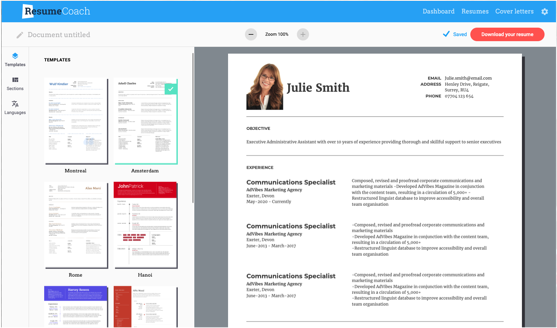 Building your document with our resume creator couldn't be easier. We take all the difficulty out of constructing a beautiful resume that gets results and help you create a slick and effective document that resonates with employers.



Some of the benefits of our resume creator tools include:
No Resume Experience Required!
To create the perfect resume by yourself you normally need to wear many hats. It takes graphic design skills, organization and a good knowledge of career advice to create the best template possible. It's not always a simple process.
However, You don't have to be a career building expert or an expert designer to create a resume with us. We coach you through every step of the process from design to download.
Save Time Creating Your Resume Online
Designing a resume from scratch takes time and effort! Luckily, ResumeCoach's online resume maker takes the stress out of creating a great looking and effective professional profile.
With us, a smart and well-optimized resume can be designed and built in mere minutes. You'll have ready-made templates, expert guidance and easy to complete sections all set to go as soon as you're ready to start. All you need to do is fill in the blanks.
Pick the Right Sections to Succeed
Personal information, work experience, skills, and education are the basics you should always include when structuring your resume. However, there's a lot more you can also include.
Our online resume creator tools make it easy to drag and drop in extra sections whenever you need them. We can also help you find and identify the ideal bespoke segments that will best capture your experience and knowledge.
Optimize Your Template to Perfection
The great thing about our app is that you can make as many tweaks as you need to without having to completely redesign your template. A resume is always a work in progress and to get the best results you should always consider tailoring your document to the jobs you're targeting.
Our professional resume maker lets you do all that with ease. Customize your resume for multiple jobs quickly and easily to create the strongest application possible.
Real Examples To Inspire You
We have hundreds of real examples from a range of different professions for you to use as a reference point. These have been created by our users and have been used to achieve success in many diverse fields.
Multiple Language Options
If you're considering a position abroad our resume builder can help you adapt your document to the local job market. Choose from over 10 world languages for your resume to get hired anywhere around the globe.
Not only that, we'll assist you with adding little tweaks that are normally expected when applying for jobs overseas. No matter whether you want to work in a Spanish, Portuguese or French-speaking country, we give you the support you need to avoid common mistakes.
Impress Potential Employers
HR staff and hiring managers have to spend hours each day leafing through the same bland resumes. Standing out from the crowd can make a huge difference and we can help you do it!
Our resume builder templates have been designed to give you a visual edge on the competition. With our help, you'll be able to easily get the attention of an employer and get noticed faster with professional but noticeable layouts.
Get Hired Faster!
Getting hired is always a numbers game and we're able to improve the numbers in your favor. With our tools, you'll spend less time preparing a resume for each job you apply for.
Also with your new and improved design, your document will be much more visible to the people who count: those doing the hiring. That can be critical when you're trying to get the attention of a member of staff who has to read 100s of resumes each day.
Expert Tips For Getting Results From Our Resume Designer
Building a resume is easier with us. However, there are many expert tips to consider when making sure your application is just right. Just remember the following points when you create a resume.
Review, Review, Review
Silly mistakes are like kryptonite when you want to get hired and can seriously hurt your chances of progression in your job hunt. Hiring managers are absolutely ruthless with spelling and grammar errors on documents and your document will get thrown out if they spot any.
Therefore it's critical to review your document before hitting send. Check it and double-check it for any discrepancies as even the smallest of mistakes could cost you dearly.
Optimize For Applicant Tracking Software
More and more employers these days are making use of automated filters like Applicant Tracking Software (ATS) to screen resumes. These will be merciless in rejecting your application if your document isn't properly optimized for it.
Getting your resume ready to take on ATS, fortunately, is an easy process. First of all, avoid custom graphics, images, and other embellishments. The best thing to do is to keep your design clean and simple. That's why all our templates are optimized to avoid getting cut from contention by screening software.
Also, don't forget about keywords. Most ATS is set up to penalize resumes that don't include enough industry-specific terminology on their pages. Make sure to demonstrate your expertise with the right vocabulary.
Focus On Positive Results
Hiring managers always want to know how you'll benefit their business. Therefore it's important to make it clear to them how you will improve their results in as few words as possible.
The best way to do this is to carefully highlight the goals you met, professional achievements you attained or any highlights, such as increased revenue or results, that you spearheaded.
The Job Advert = The Ideal Crib Sheet
When you write your resume, remember to check the desired criteria required by the employer. This is like a shopping list of everything the hiring manager wants from candidates and if you tailor your document to its key points you're more likely to get called in for interviews.
Make sure your experience and your skills stack up as perfectly as possible with what's expected by the employer. By doing so you'll fit the exact profile that the hiring manager wants to see and get more interviews as a result.
Keep it Short, But Not Too Short
A long resume is just going to end up in the trash. A length of 1-2 pages is the ideal amount that your document should stretch. However, a single letter page (8.5" x 11") normally offers candidates the best success rate.
Conciseness may be key but always avoid underfilling the resume. If you're in a position where you're new to the workforce or changing careers make sure to use any and all relevant experience you can to prevent leaving too much empty area on the page. You ideally want just enough white space to separate out all the sections, although not too much.
Find Out More From Our Information Bank
Whatever stage of the hiring process you're at, don't forget to take advantage of our collection of articles explaining the most important resume and job finding tips and tricks. In it, you'll find all the crucial information you need to know before building your resume.