Winners and Losers of the Post-COVID-19 Job Market (and How to COVID-Proof Your Career)
Create your resume now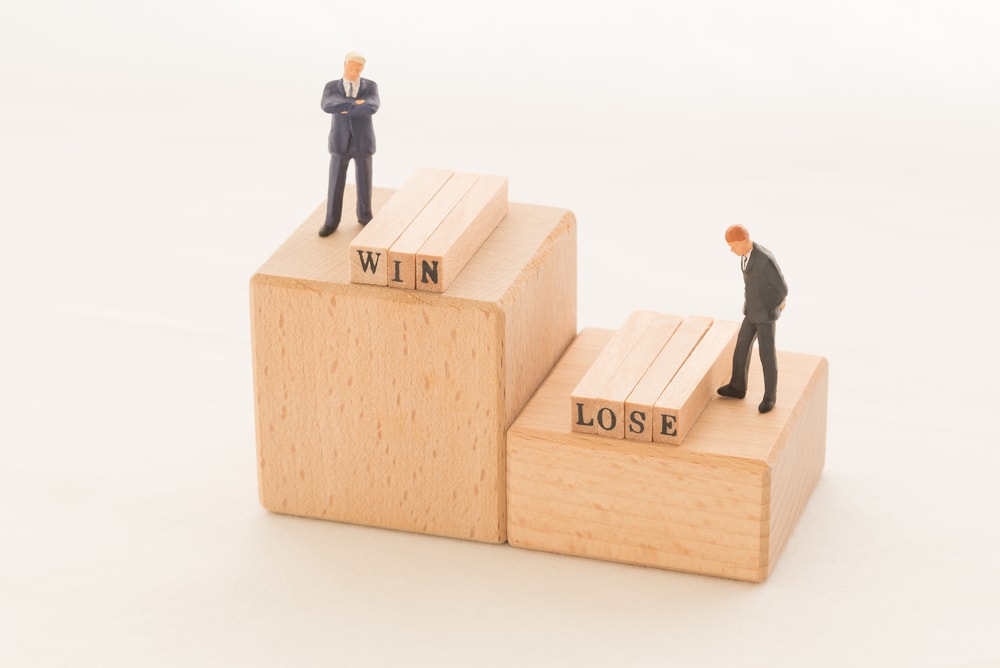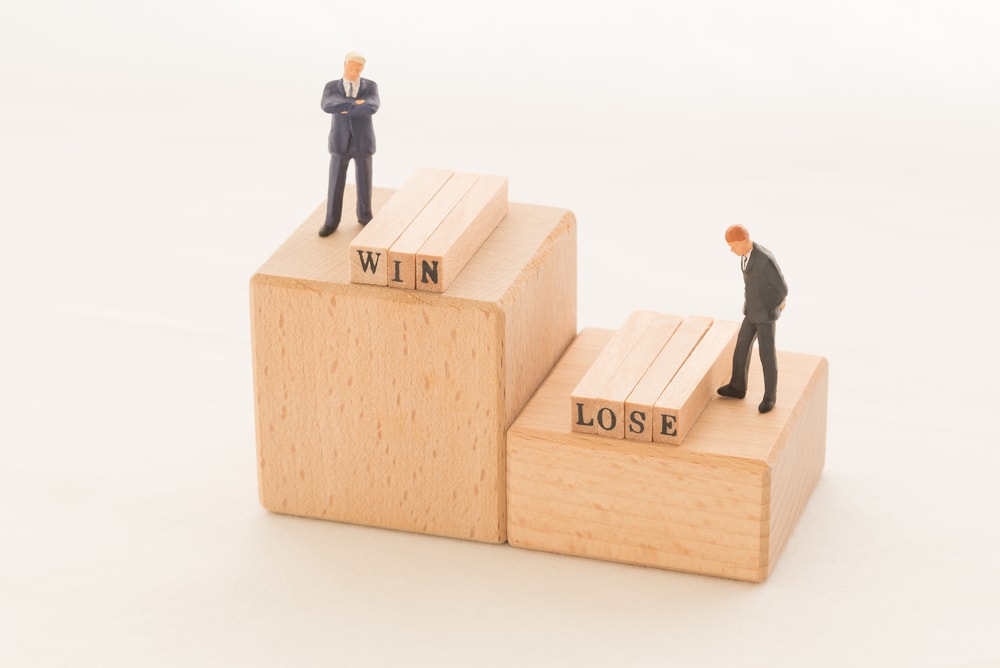 The COVID-19 pandemic has had a huge impact on the US Job Market. 36million jobs have already been lost and even more millions look uncertain to be kept in the near future.
Overall, the United States has been one of the worst-hit nations in terms of infections and economic fallout. Some 37 million jobs across many key industries are now under threat and could be lost over the next few months with over 49% of employers considering cuts.
To help guide you through the ever-changing employment landscape we've identified a selection of the winners and losers of the post-COVID-19 job market. Read on to find out if your sector is affected and what you should do if this is the case.
Which Sectors Have Struggled After the COVID-19 Pandemic?
The COVID-19 pandemic has led to record levels of unemployment all over the world but no more so than the United States. Around 36 million jobs have already been lost and the USA now holds an unemployment rate of over 25%.
The most precarious industries at the moment are as follows:
Food and drink: Over 10 million jobs at risk
Retail: Over 7 million jobs at risk
Travel tourism and leisure: Over 5 million jobs at risk
Support services: Over 4 million jobs at risk
Education: Over 3 million jobs at risk
(Source: Statista and Job Quality Index)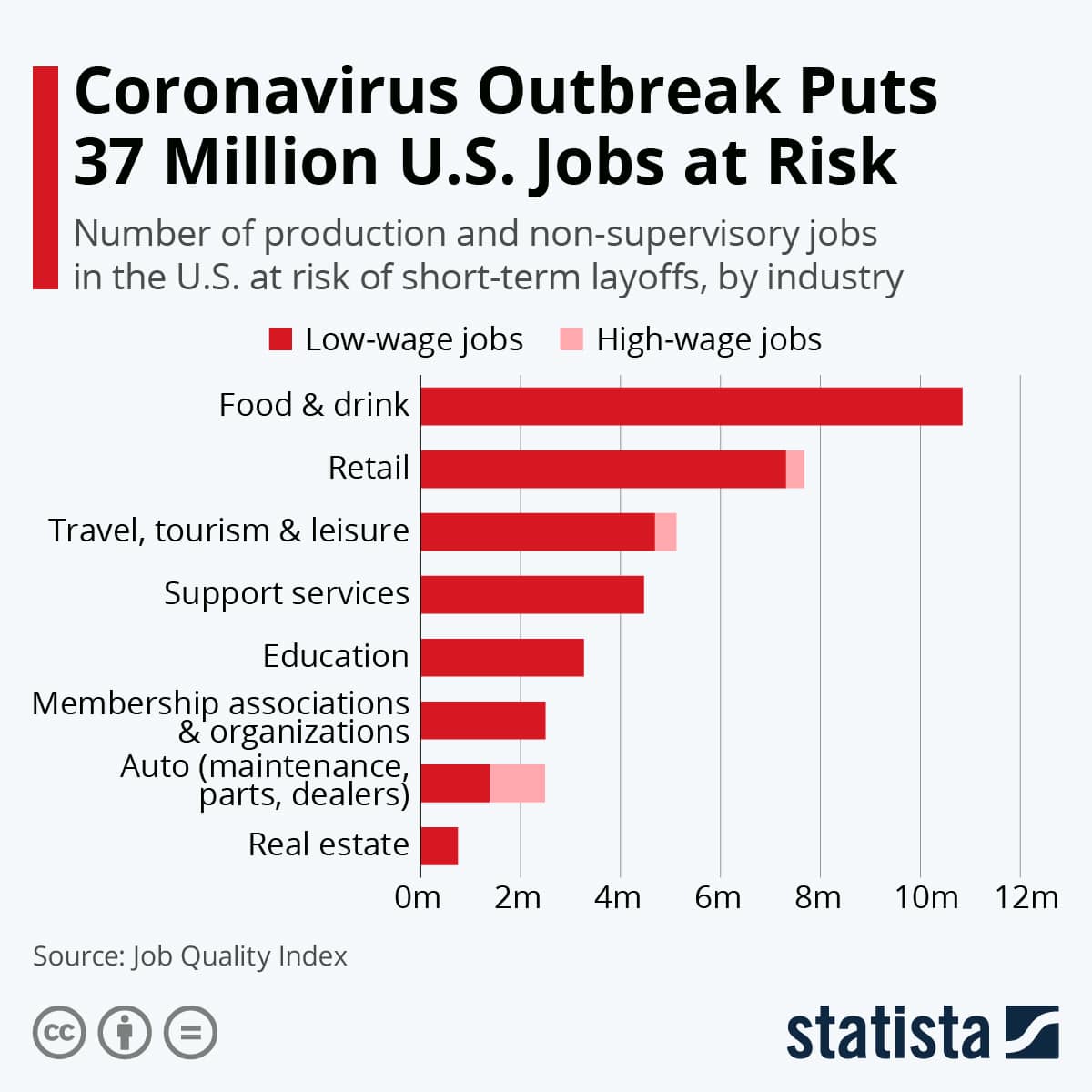 In addition to these stark figures, there are a number of industries displaying very high levels of unemployment. Sectors such as manufacturing, mining, and transport are showing figures of over 10%. Starkest of all is leisure and hospitality which is nearly 30% unemployment figures.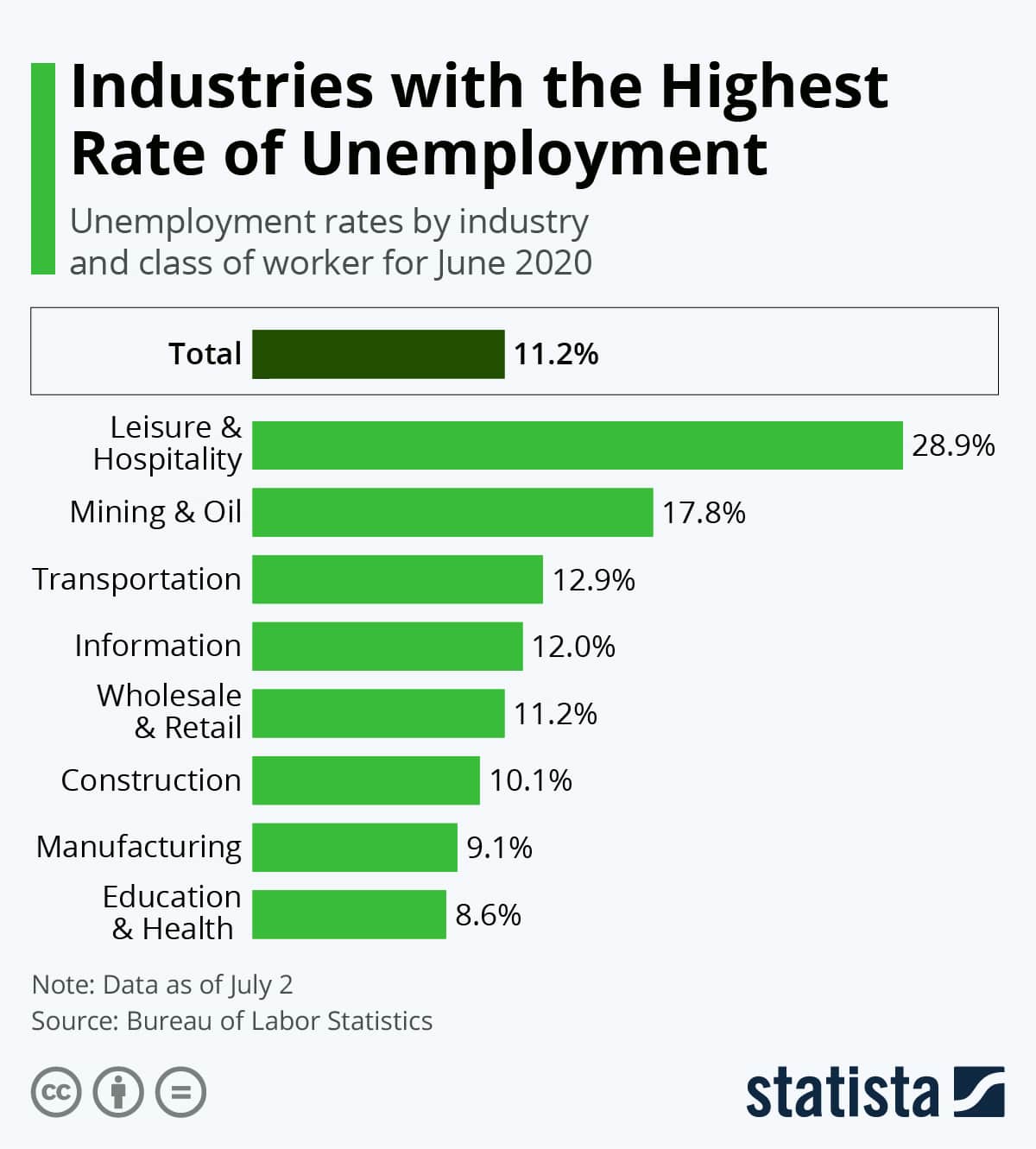 What To Do If Your Industry Has Been Affected
If you have lost your job already or expect you could lose it soon, don't panic. This is a scary situation but there are steps you can take to soften the impact of the situation. The first measures you should take are the following:
File for Unemployment Insurance if you are eligible
Start applying for jobs right away
Target jobs in growth industries
We'll discuss more about the sectors with growth potential in spite of COVID in the next section. In the meantime, we've collated a few useful guides that might help you along the way when planning your next move:
Which Sectors Have Strengthened After the Coronavirus Pandemic?
Whilst many industries have felt the pinch after the Coronavirus pandemic, there are also a number of sectors that have managed to buck the trend. Roles that are expected to grow despite these economic difficulties are likely to be found in:
Healthcare
eLearning
Supermarkets
Delivery and logistics
Warehousing and storage
eCommerce
Pharmaceuticals
Robotics
Streaming
VoIP
Many of these expanding industries are essential or can function just as well when workers are working remotely. Jobs that can adapt better to the new normality better have improved chances of surviving the current chaos.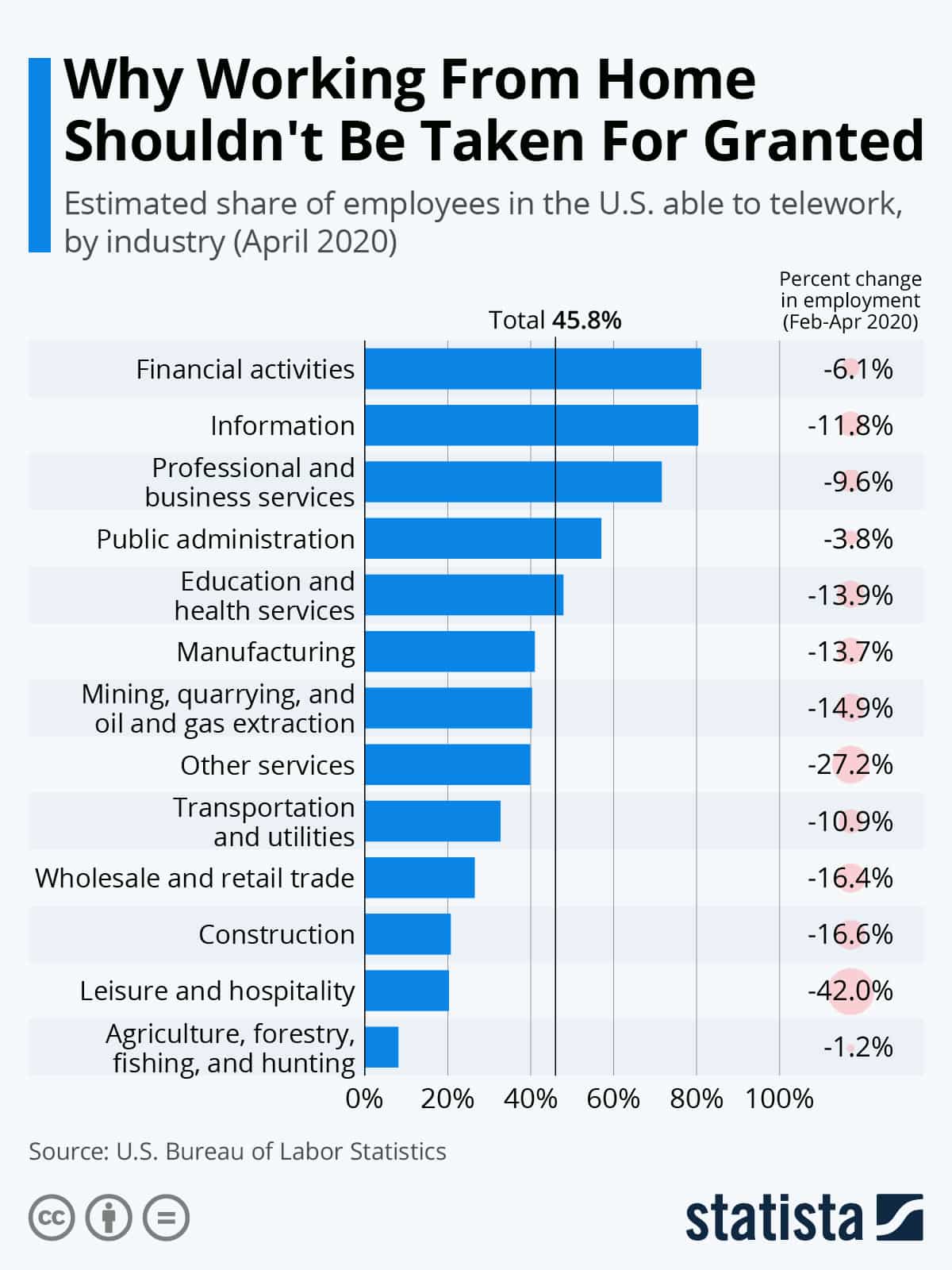 Lockdown Luxieries on the Rise
Stay at Home Orders are still in place across many states. With people confined to their homes and many businesses shuttered until the danger has passed, the population has readjusted its shopping habits.
Many have been turning to lockdown luxuries. If you're pivoting to a new sector during the current crisis, any companies producing or selling these items are worthy of consideration.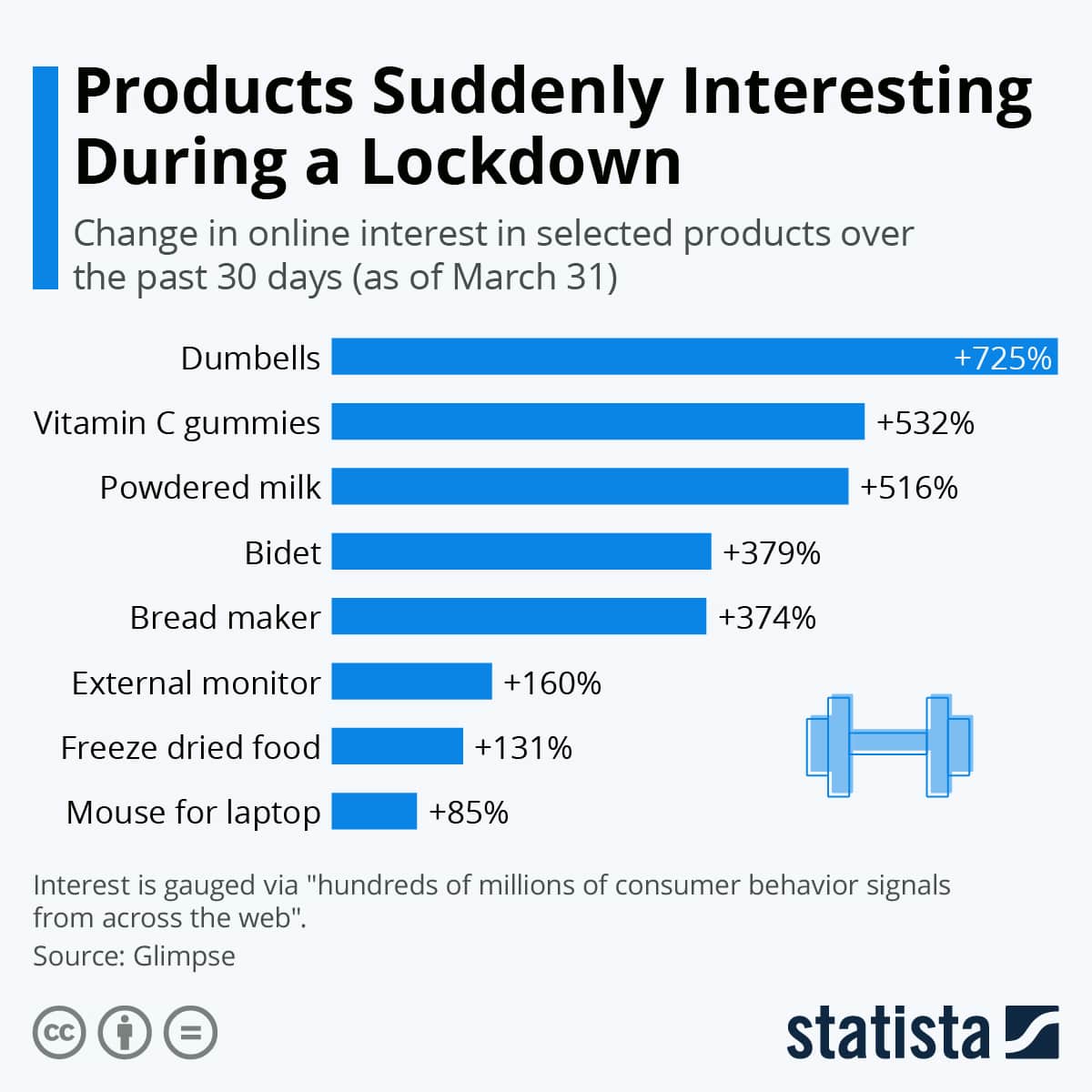 The Mysterious Trend of "Revenge Spending"
Another interesting trend to consider as you plot your course to a secure new job is how people are likely to spend once the virus has eased. It's expected that once this happens many will indulge in so-called "revenge spending" by splashing out on items as a celebration of their refound freedom.
This is likely to benefit industries such as the following once the lockdowns are over:
Fitness and health
Online learning
Shipping and logistics
Consumer electronics
What To Target in a Post-COVID Job
If you're out of work and need to reevaluate your position, it's important to consider your next steps carefully.
Finding a job where you can work remotely could be an important decision to make when you apply for your next role. This will be especially crucial if you are looking for a job whilst sudden spikes of COVID-19 remain a risk in the general population.
Even if you do have to change your sector, you don't have to consider it a permanent move. COVID is probably not going to be with us forever and your current industry could make a strong resurgence once this happens. However, it's important to focus carefully on the here and now.
It is sensible to look carefully at positions that offer short-to-medium term security so you can ride out the worst of the pandemic. That might mean working freelance elsewhere or finding a temporary contract to keep you on track for the rest of 2020.
When you start looking for a post-pandemic job, try to look for positions that offer the following:
Freelance options
The opportunity to work from home
Positive growth prospects
A structure or product that can thrive despite social distancing
COVID-19 has truly turned the job market upside down and many people are still taking stock of the damage. However, you are much likelier to overcome these difficulties by being prepared early and targeting businesses with growth potential despite the problems being faced.
Being ready to react is key. Plan ahead now by giving your resume a stylish new look and an update with our professional resume builder tools.