A professional, effective resume is nearly always a work in progress. The same is true for ResumeCoach and its editor tools.
We're always looking for ways to make it easier for professionals to design the perfect resumes. As a result, you might see a few changes if you try out our resume editor today.
Recently, we rolled out a number of improvements that have changed the way that users will experience the process of building resumes with us. You'll notice that our designer has had a complete visual overhaul, is more responsive, and has a simpler, more methodical process for walking you through the build of your new resume.
If you want to see these changes for yourself, simply click below.
If instead, you want to find out what's changed, read on and we'll explain what's new for ResumeCoach users. We'll show you how our resume builder has been revolutionized and why these improvements go further than just a "new lick of paint".
Easy Steps Towards Success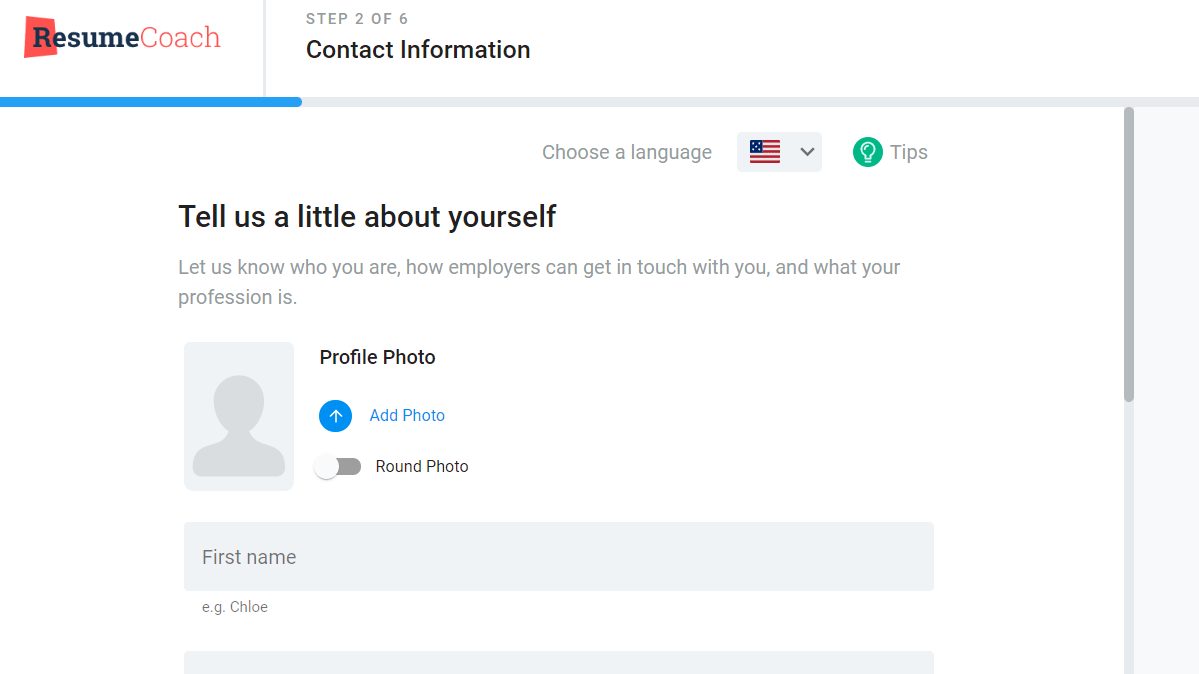 Designing the perfect resume isn't something that happens all in one go. It's a task that's better broken down into smaller steps. This got us thinking, why not make the experience of using ResumeCoach the same?
To reach this goal, we split each necessary element of a successful and effective resume into easy steps that guide you seamlessly through its creation. Now when you use our resume generator, you'll go from an empty template to a fully realized resume in just 6 easy steps.
Step 1: Choose your design
Step 2: Add your personal information
Step 3: Create a snappy resume objective
Step 4: Fill in your work experience
Step 5: Enter your education and qualifications
Step 6: Add some of your most sensational skills
These will help you get the key essentials down that recruiters will need to see no matter the circumstances. Once you've got these important basics sorted, you can add in extra sections to make your resume really stand out.
After the meat of the resume has been added you can also add in common extra sections like Awards and Achievements, Projects or Publications. Alternatively, you can create a bespoke segment of your very own.
After that, your resume will be ready to go. At this stage, you can either download it and send it out to employers or click on the resume preview or one of the section menu bars to edit the content to tweak the template until its perfect.
A More Visual Approach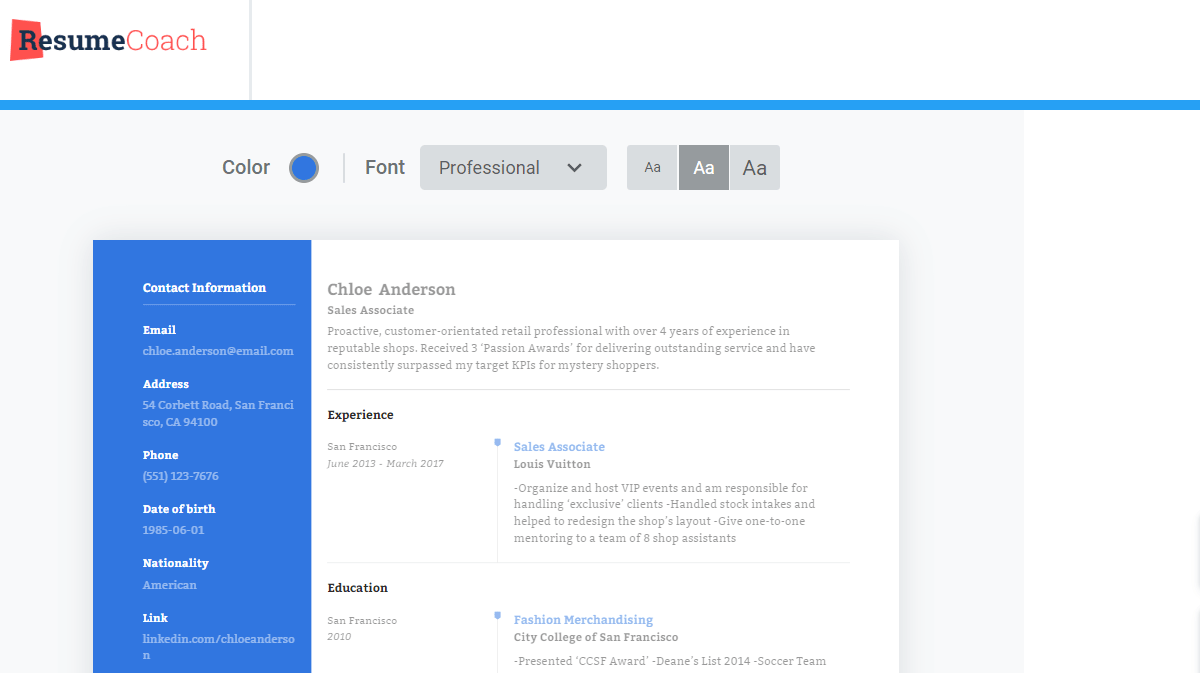 The beauty of a resume builder is that you can create visually spectacular results that employers will notice in no time at all. Of course, the resume builder itself needs to embody some of the design considerations that the best documents use.
To keep the feel of the editor in tune with the elements that make a visually impressive resume we decided to tidy up the design a little. A good document normally has a clean and clear template, nuanced but subtle visual embellishments, and easy-to-read text. That guided us in our rethink of how our resume designer works.
With our new and improved visuals, the look of our editor has been given a simpler and cleaner feel. We've emphasized white space and strategic use of color so that you can easily navigate from start to finish.
Also to make the design process feel even more seamless, you can see updates to your resume happening in real-time. That way you can see your document grow as you go and change any additions you're not 100% happy with.
Tips To Guide You Through Your Journey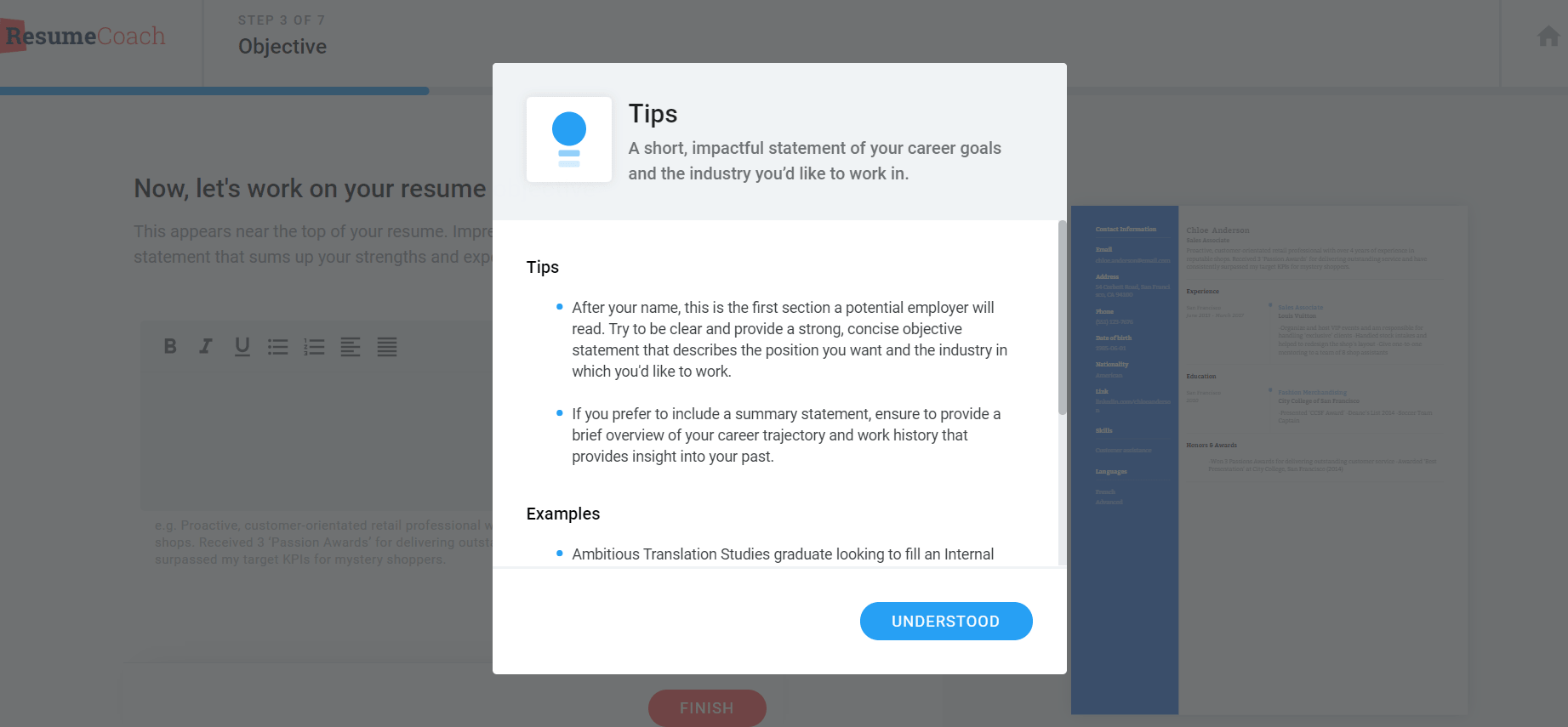 Creating a resume from scratch can be hard work without guidance. It's sometimes easy to lose your way or to get too far ahead with a design before realizing it has fundamental flaws.
Luckily with the changes we've made to the editor, you won't have to worry about that happening to your resume.
Each step in the editor helps you get everything in the right order so that you gradually build up your resume from the fundamentals foundations up to the personal finishing touches that can make you a stand out candidate. Also, if in the end, you're not totally happy with your final template, you can always switch it for another without breaking the design or losing your data.
To help you fill in all the right information effectively, you'll find examples to help you complete each field (just below the data forms themselves). Also, each step provides important best practice guidance for resumes. You'll find tips in the top right corner of every section editor (just look for the green lightbulb) to help you complete specific parts of your resume design.
With these new improvements to our editor, designing a resume is easier and faster than ever. We wanted to make each step of getting your resume set to impress seamless and now that these changes have been made you'll find the whole process much more user friendly.
If you want to try out the new-look ResumeCoach editor today, simply sign in or start building your first resume. Happy building!